I Bought My Prom Dress
We've updated and upgraded the voices, from child to adult, over the years since Siobhan first started using voice output devices in 2002. Siobhan's DynaVox Xpress uses the Susan voice by Loquendo. Susan has a bit of an attitude, as Siobhan does. Siobhan has been going around saying, with a saucy attitude, "I bought my prom dress" and showing everyone the picture of her dress that comes up on the Xpress. She's been talking up a storm about how she and her friends went shopping and about the dress and it's a wonderful thing to see her so excited about the prom.
The Shoes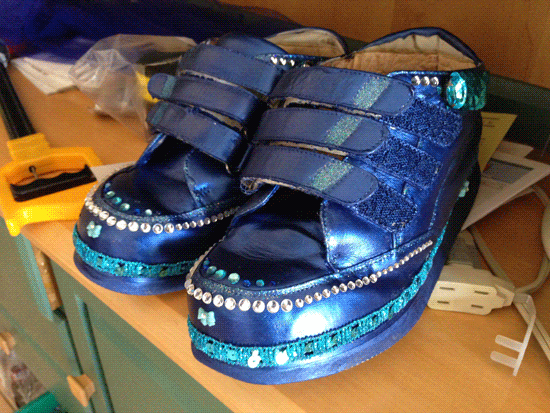 Siobhan wears Dafo above-the-ankle braces to keep her feet straight and flat and over the braces she wears her five times wide shoes. She can't walk safely without the braces and shoes, but the shoes are not exactly prom quality. I said that if we can't hide the shoes, that we should emphasize them by blinging them out with crystals and doo-dads. Linda's friend, Robin, is a powerful attorney. She is also a wonderful designer of miniatures and other constructions that evoke moods or celebrate occasions. Robin painted the shoes blue to match the dress and applied crystals and bangles. Bling!
The Legs
Yesterday, Friday May 16, in the afternoon Linda started getting text messages from Siobhan's teacher, Ms. Keith, and from Juliana about Siobhan's legs. Did they want us to use the Nair at school or did we want them to send it home. Linda made a quick appointment to get Siobhan's legs waxed so at 5:30 pm we were at Queen Bee in Brentwood on trendy San Vincente Avenue. Siobhan was not happy with the waxing, not happy indeed.
The Nails
Siobhan's friend Juliana came over and she did Siobhan's nails. First a coat of clear, then a coat of cobalt blue, then another coat of cobalt blue, then the coup de grâce, the silver glitter tips! Next comes the hair.
The Hair
This was quite a challenge. Siobhan's hair is very thick and it took a while to whack it into place. At least that is the viewpoint of this humble dad. Grin.